{about me}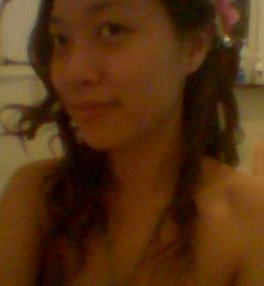 Name: Su Ling
Location: Georgetown, Penang, Malaysia

Simple things make me happy!

See my complete profile
{disclaimer}
This blog is solely MINE It contains MY photos, thoughts, hopes, dreams, secrets, and fears. I write because I want to, and you read because you want to. If you don't want to read, then don't. It's that simple.
Monday, June 25, 2007
Pork Chop a la SU
Yummy! very delicious!
Ingredients
Marinates pork with some soya sauce, sugar, pepper and chinese wine (i don't know what is it called) you can add red wine as well. Keep it in the refrigerator for one day. If you poke your pork with fork, its better!
Simple but very delicious! Alternative, before you cook it in your pan, you can add some flour to your meat and cook. But i prefer it without any flour and cook it just right when the meat turn color. Soft and tender!
Picture..
Below is a very gross picture.. I wanted to cooked something la..but it fails miserably!! I wanted to had bread with egg + yellow beans! But somehow I don't know la..doesnt taste that good..hehe and yellow bean was kinda hangus d! I had once something like that at a Hotel but it taste good!


Labels: food
Sunday, June 24, 2007
Feng Shui + random stories
I have a new tea tray with a wodden carved dragon and chicken. The dragon symbolizes career success and courage. Also I have a jade turtle. :) Health and Longevity! chickie? Me!
Well well.. i have dragon + turtle = Dragon Turtle

Dragon turtle combines the longevity of a turtle and the power of a dragon. The dragon head turtle is a powerful symbol of obtaining balance in life.
I saw something cute too a horse and a fly..

A Horse and a Fly is a symbol of instant success in all your endeavors. Therefore wish it's a really potent lucky charm for those who wish to gain quick results and instant success. Must bring that to Genting!

Hehe I wanna buy more toy for my new tea tray la. But my mummy say I buy too a lot of stuffs. She already forbids me to buy more clothes but MNG is having sale (MEGA SALES), wanna get a pair of jeans la! She also added I cannot buy more hair product stuffs so i gotta use my old repair shampoo and conditioner. But I am buying new hair oil and cream la..finishing d!

Labels: fengshui, sale, tea accessories

Overdosed with Thai food!

Had Tomyam for lunch...now I know why everyone goes to Loh Ser at Burmah road for Tomyam...it was good! Somehow, I felt that it not 100% genuine tomyam soup it kinda had the taste of Thai tomyam and the normal curry laksa taste. But the combination was very good indeed. I would definately go back for more of the tomyam soup, after all it's only RM5 bucks..quite worth it infact one of the cheapest tomyam (with one prawn, fish meats, a lot of sotong and mushroom) i ever had in Penang! I gonna add this tomyam to my to eat food list.

But the tea served were quite BAD! I had ordered Bi Luo Chun green tea but it didn't taste like green tea at all. The leaves were however very fine and tender but just not the taste. The liquor was brownish and didn't have green tea taste! Also the leaves doesn't look like BLC. BLC suppose to be curly twisted with silvery tips. Weird weird Yucky! And I paid RM12 bucks for it ( approx. 6 grams of tea in the teapot) and RM3 bucks for the water I think because she knew I brought my own tea. Nevermind now I know why everyone bring their own tea now to that place!

Someone told me he knows how to cook that tomyam. I gonna find out the recipe from him!
After that we went to Him Heang! It was a madness for tambum peah! Geezzz..there were like 20 ppl infront of us Q'ing for it! After we left there were like another long long Q.

Came back and nap, woke up and play with don! Had green curry chicken(Super tanker) for dinner. So spicy! Very unhealthy leh! Tomorrow I gonna have something light! But then I have marrinated my pork chop leh! I wanna cooked Pork Chop a la Su! hmmm...hmmm...so tempting!

p/s: I am craving for Dukong (duku langsat) whatever you call that thing! geezz..I also feel like having mangosteen as well.

Labels: food, fruit, tea, thai cuisine

Saturday, June 23, 2007

Updated: To do list! (Ahem..more like "to eat list")

Below are the things that I will be eating before I leave this island!

Air Hitam Laksa - 9 May 2007, 15 May 2007 (I just can't get enough of this)
Paddington Pancake
DragonI
Sakae Sushi - 27 May 2007
Ahmad Roti Canai (or whatever his name is) 17 June 2007
Mee Udang
Batu Lanchang Market Pasembur - 12 May 2007
Penang road Ice Kacang
De Tai Tong Dim Sum
La Mian @ Pulau Tikus - 7 june 2007
Peking Duck @ Berjaya Hotel Chinese Restaurant
Cititel Japanese Buffet
Tao Buffet Dinner
Corner roti bakar @ Chinatown
New Lane Satay
German Restaurant @ Tanjung Tokong - 28 May 2007, 9 June 2007
Temple western food - 28 April 2007
Jelutong Burger Ayam Special
Tang Yuen @ opposite Shangrila Hotel
Dato Keramat Char Siew Pau - 12 June 2007
Tandoori Chicken @ town.. ?
Hoi Boey Seafood - 2 June 2007
Loh Ser Tea House (Tomyam) - 24 June 2007

Thursday, June 21, 2007

Very JILATable Roti Canai

Yum yum! Always wanted to have this roti. Finally had it last Sunday. As you can see from the title, the roti indeed was quite good. I had roti kosong. JILATable! ;)





*picture taken from Mayakirana blog.

Was is expensive? I let you do the judgement of the RM21.60. Remember that the price of flour recently increased ok!

3 roti kosong
2 roti planta
1 roti telor
4 pieces of curry chickent
1 teh tarik
1 milo panas

Of course didn't eat all there la, I had to tarpau for my mum and brother.

The weekend is approaching so that's mean Penang Bridge run! Yay I am bringing lil'don for a run with me! Nah..kidding.

Good luck to all ! I know a few people joining as well as my friend from KL who is coming to clock 2 hours 45 minutes for the run (23.5, half marathon)! How interesting? People always tell me that it takes few hours to run. And that few hours = almost 6-7 hours! Let's see if he can do it! :)

P/s: I also changed my hairstyle! I am still getting use to my fringe...quite irratating!

p/s: My friend recently told me that I didn't watch pirates 3 till the end. The end was the part where I saw Will left Elizebeth at the sea! But apparently if you stay and watch, Will came back after 10 years and they had a 10 years old son! Did you miss that?

Labels: food, marathon, others

Friday, June 15, 2007

Pirates of the Caribbean: At World's End

watched this a while back...

It was as what i have expected but at least Jack is funny and sexy! ;)

Story was a bit slow! Some part which I think the director could do much better like the part where Tia became a huge giant! It would be better if she turn in a beauty!

:D

Updates: My diet plan is not working too well...uuggh!
Teacuppa.com - Gourmet Teas for all!
{loves}
cheesecakes
strawberries
ice-cream
satay
chee cheong fun
curry laksa
penang laksa
ba kut teh
popiah
nasi lemak
crabs
peking duck
watching TVB drama
travelling
talking to stranger
walking alone in an empty street
{hates}
pretentious people
waking up early
naughty Frosty
{recently}
{movie watched}
{archives}
September 2004
October 2004
November 2004
December 2004
January 2005
February 2005
March 2005
April 2005
May 2005
June 2005
July 2005
August 2005
September 2005
October 2005
November 2005
December 2005
January 2006
February 2006
March 2006
April 2006
June 2006
July 2006
August 2006
April 2007
May 2007
June 2007
July 2007
August 2007
September 2007

{credits}