{about me}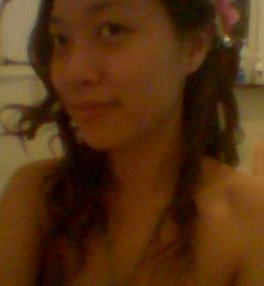 Name: Su Ling
Location: Georgetown, Penang, Malaysia

Simple things make me happy!

See my complete profile
{disclaimer}
This blog is solely MINE It contains MY photos, thoughts, hopes, dreams, secrets, and fears. I write because I want to, and you read because you want to. If you don't want to read, then don't. It's that simple.
Saturday, July 07, 2007

Craving for mooncakes!

The title says it all! Suddenly i feel like having snow skin red bean paste mooncake! But no one is selling yet. My fav used to be the one from Oversea restaurant. Every year I get to eat a lot of mooncakes. Really a lot...from curry mooncakes to chocolate mooncakes. Curry yes...I can't remember which hotel one..was it shang-ri-la?..to me it taste horrible! Even my parents think so too. Another one exotic mooncake I tried before was not so exotic anymore la..chocolate one..from Equatorial Hotel. I didn't quite like it. But My best friend said it was quite good. Nah...i think I still like the normal mooncake! Few weeks back I was packing up my stuffs. I used to collect a lot of mooncake boxes..very beautiful ones..But decided to clear them up and throw them away. Hehe...SO I WANT SNOW SKIN MOONCAKE! So whenever I get exotic mooncakes usually i give it to my bf's mom as gift. Hehe! Hey not cheap ok those hotel mooncakes. Since we don't appreciate the mooncakes, better not just let it rot at home rite?

Don't if i wanna bake my own mooncake...maybe jelly mooncake for Don? Hehe!
Saturday night! Lonely night! Home alone with Don! Mummy and Daddy is in Shanghai! Lucky them staying at Hyatt Shanghai the so called best hotel there! Me and donny wanna go also leh!

Tomorrow I need to shower lil'Don! Also I am having allergy. I knew the 5 days medicine will not cure me! I just knew it! So now I gonna be on long term medication for anothr 3 weeks. Then if it still doesn't goes off it will be another 3 months and 6 months! And hopefully by then it will go off like the last time. Hmmm that was 10 years ago! I thought of trying chinese medication but then I don't really wanna drink the black liquid! I am a bit reluctant to do so.

Also on another updates I plan to pick up chinese lesson. Really really into it. I have met teacher and am still thinking about it. It's not a cheap thing. 48 sessions 1.5 hours for RM2588 + RM 50 registration. Worth it? I am afraid that I will give up one day! The beggining I am sure it gonna be fun. But towards the middle...hmmm... i don't know..it will be difficult and a lot of homework, memorization works and etc....hmmmmmmmmm *deep thoughts*

Labels: mooncake
Teacuppa.com - Gourmet Teas for all!
{loves}
cheesecakes
strawberries
ice-cream
satay
chee cheong fun
curry laksa
penang laksa
ba kut teh
popiah
nasi lemak
crabs
peking duck
watching TVB drama
travelling
talking to stranger
walking alone in an empty street
{hates}
pretentious people
waking up early
naughty Frosty
{recently}
{movie watched}
{archives}
September 2004
October 2004
November 2004
December 2004
January 2005
February 2005
March 2005
April 2005
May 2005
June 2005
July 2005
August 2005
September 2005
October 2005
November 2005
December 2005
January 2006
February 2006
March 2006
April 2006
June 2006
July 2006
August 2006
April 2007
May 2007
June 2007
July 2007
August 2007
September 2007

{credits}