{about me}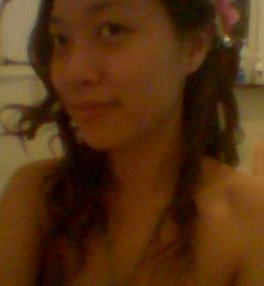 Name: Su Ling
Location: Georgetown, Penang, Malaysia

Simple things make me happy!

See my complete profile
{disclaimer}
This blog is solely MINE It contains MY photos, thoughts, hopes, dreams, secrets, and fears. I write because I want to, and you read because you want to. If you don't want to read, then don't. It's that simple.
Thursday, October 27, 2005

Puffs

Delicious puffs...but I prefer the peach puff..Strawbery jam is so-so only..maybe I should use fresh strawbery rather than the jam. This is very easy...anyone can do it at home. No baking skills needed. First go out and buy the pastry from any supermarket. It comes with 10 pieces per pack, price at RM3-4. Then get some peaches from the canned food section. Cost around RM4-5. Or other fruits if you like.

When you feel like eating some puff, take the pastry skin out, put some peaches on it..put it into the oven and baked for 20 minutes at 150 degree celcius. Ting! Your peach puff is ready. Sprinkle some castor sugar on it. Yummy!




Strawberry puffs


Peach puff


I love him!

Tuesday, October 25, 2005

Self reflection

When we look in a mirror, we may not see ourselves the same way that other people see us. Often we see the negative parts, what we don't like about ourselves, how we fail to do what we think we should do. We may simply fail to see the good in ourselves that others see in us...we are too hard on ourselves!!!



Reflection

Sunday, October 23, 2005

Abortion? Go for it!

Don't get my blog title wrong. I am bloggin this because I read in theStar paper today regarding a baby being dumped on top of some garbages. OMG!!! If you don't want the baby for god sake..go and have an abortion. There's nothing wrong about it!!!It's NOT killing! But what happened in the front page paper today is KILLING!




I know many people go againts abortion and think that abortion is cruel. But letting the baby die after he/she is borned is 10000000000 times more cruel. If you don't want the baby, then think of adoption or abortion. What's wrong with that? Throwing a baby on the river, bus, toilet (trying to flush it down) is really really really...(well, there's no word to describe it) Probably one who did it, is nothing different compared to a KILLER.

I think is illegal in our country for abortion unless the girl has been raped or she has some medical conditions that she has to do it. But I know many people get thru abortion with the second reason. So ya...what the heck! You can go thru it.

What I am trying to point out here is that every baby borned out to the world, should be WANTED!!! Get it?

Btw, I am not trying to promote abortion here. And also, I do not encourage people to have sex without any safety measures, and then use abortion to solve the problem later on. You should know that abortion might leads to alot of complications. Just to voice out my thoughts about this issue. And yes seriously, I don't think abortion is wrong if you don't want the baby and don't want to bring suffering to everyone around you. I know it's tough to make such decision, even if it ever happen to me I don't think I have the heart to do it, probably get married by 'accident'. Haha!

Nitez!

Friday, October 21, 2005

TE EXTRANO, TE OLVIDO, TE AMO ( I Miss You, I Forget You, I Love You)

Ricky Martin. He is one of fav singer!! Others would be Shakira, J Lo and Christina.
One thing about Spanish song, they are very emotional..

Traigo en los bolsillos tanta soledad
desde que te fuiste no me queda mas
que una foto gris y un triste sentimiento

Lo que mas lastima es tanta confusion
en cada resquicio de mi corazon
como hacerte a un lado
de mis pensamientos

Por ti, por ti, por ti,
he dejado todo sin mirar atras
aposte la vida y me deje ganar

Te extrano, porque vive en mi tu recuerdo
te olvido, a cada minuto lo intento
te amo, es que ya no tengo remedio
te extra?o, te olvido, te amo de nuevo...

(se repite)

He perdido todo, hasta la identidad
y si lo pidieras mas podria dar
es que cuando se ama nada es demasiado

Me ense?aste el limite de la pasion
y no me ense?aste a decir adios
he aprendido ahora
que te has marchado

Por ti, por ti, por ti...

Te extrano...

The translation would be..

I'm so lonely since you went away
I'm left with nothing more
Than a gray photo and a sad feeling
What hurts the most is all this confusion
In each crevice of my heart
How do I get you..
Out of my thoughts

For you, for you, for you
I left everything without looking back
I bet my life... everything... and I lost



I miss you
Because your memory lives on in me
I forget you
I constantly try to
I love you
There's just nothing I can do about it
I miss you, I forget you
And I love you again

've lost everything, even my identity
And if you asked me to...
I would give even more
Because when you love someone
Nothing is "too much"

You taught me passion to the limits
But you didn't teach me about saying good-bye
I have learned...
Now that you've gone away

For you, for you, for you...
I miss you

Tuesday, October 18, 2005

Shrugzzzz.....

My title explains it all!

Too tired to blog..It's 6.13 AM now. I think I need to sleep now.. Got a meeting with lecturer later this afternoon. Crap, I hate going there during office hour.

Sob sob...!!!

Monday, October 17, 2005

Tired-Su

Very tired and sleepy..coding whole nite. Need to wake up and continue later again! Shrugz...feeling hungry too..but can't eat becoz on diet. Nowadays, I am only eating one meal perday. Sob sob...poor me!!

I don't have much updates, just that I went to eat sushi on Saturday nite. Wanted to go library tonite but found out it is closed at nite. Will go later today.

My internet is so slow tonite. Hate it!

Anyway, gtg now...wanna zzzz...



That's not me!!

Nitez..

Saturday, October 15, 2005

Chubby-Su?

Friday, October 14, 2005

TSDM lengluis..

Suddenly found this picture in my laptop. Haha! Miss all the girls in the picture..(me in the middle) Miss work time! Picture was taken in Mayang Mall during Joo's birthday.




Most of the girls are no longer there anymore. There's only 2 left (Both on the right of the pic). The far left girl went back to US with her hubby. Next to her, left to Motorola. And me left too..Last girl on the right, she's new when I left. Such a small small small world, she is my bro's friend. On the first day, she came to my cube and said.."Soo Ann's siter?" Me: "err..ya and you?" ...bla bla bla..dont need to tell grandma story la. Next to her is a very cheerful girl..:D She's very funny!!! She also got a very mouth-watering recipe book!!!And also she cuts her own hair :D.

Well time to go bed..

Nitez!

Wednesday, October 12, 2005

Virgin Cream

I didn't know Malaysia has such product. This company BioGulf have more than that. One product Libidus is claimed to be very famous.

"Libidus is a very potent herbal formula designed to help improve men's health and vitality. Since its launch in the 3rd quarter of 2002, more than 4,000,000 has been sold globally, making it the most popular herbal sexual enhancer in the world."

And another one is the virgin cream.

"Virgin Cream for women is a specially formulated herbal solution for tightening the vagina muscles, enhancing the libido and heightening the sensitivity to rejuvenate a woman's love life."

Old granny needing it..



Really funny!! You can check out at http://www.biogulf.com. There are more websites out there that is selling their products. I am really amazed with it. Before this I thought it was some kind of stuff that you see people sell at pasar malam and it's a total bullshit until I saw the company website. Haha! Maybe it's fake too. But it's written in their website that all their products are fully licensed and approved by the Malaysian Ministry of Health.

Tuan-tuan dan puan-puan..Malaysia really boleh hor..?

Tuesday, October 11, 2005

Crabs at De Foodland

This is the best crab I ever tasted. Super delicious!!! The butter crabs is the signature dish. They even have man tow to dip into the sauce. Really good. But it's a bit expensive to eat there. Just like this phrase "We have no quarell with our competitors ,afterall they know how much their food worth."



creamy butter crab



Next trip, I want eat Cheese Crab. They have like 30 choices of cooking for crabs. Yummy...I am always blogging bout food. Geeezzz...my freinds are complaining that whenever I am in IM, I only tell them 2 things..which are "Help, I am so sleepy!" and "Hungggrry!!" Hehe! I am easily satisfied with good food..geezz...i am such a pig!

Little-Su-Piggy signing off..

Raju's Restaurant

This is a very famous restaurant for banana leaf rice. A very huge restaurant that has indoor and outdoor. Outdoor eating place is under huge huge trees. A lot of pigeons too.




To me the food was so-so only. I think the one in Pg is better. Here you get to see they cook your meat such as chicken, fish, prawn, sotong and bla bla bla. But the curry is not that nice. The fried fish and chicken too. But the sotong was quite good except for me it was a bit salty.

Quite a huge crowd when I was there. Very famous, I do see foreigner here. But a bit more expensive. But kinda good especially you are bored with all the normal food you have everyday.

why I am bloggin this anyway? Coz i am hungry and i am having this sudden craving for banana leaf meal. *shrugz* is 3 AM in the morning where am I gonna get it? Probably in my sweet dreamz..I think I wanna wake up early later and get some breakfast. It has been a long time i have a good breakfast.

Taz..

My bed is calling me

I have turned into a very sleepy girl. My fav hobby is sleeping. No idea why?
Must be been lazy. Right now, I should be working on my report but I feel like my bed is calling me. Geezzz....maybe i need to exercise more but then I can't go hiking now, dad said is dangerous to hike now, a lot of dengue cases in PG. And I always get mosquitoe bites when i go hiking.

Hmmm...must go watch 40 year old virgin..friend said is very funny and from the reviews online they said prepare to laugh all the way!

Yay...i am looking for it torrent to download...but mostly return me some kinky porny stuff...geezzz..gonna be tough to look for the torrent.

Goodnite

Sunday, October 09, 2005

Super Toboggan

Guess what is it? It's a thrill ride in Genting. WORST ride ever! Caused so much pain to my body. The orange thing will race you down the slides without any brakes. It will start slowly and kinda boring in the begining but wait till it starts to glide. OMG. Bing! Bang! Bing! Bang!...my poor body. I will never ever play it again.




The most thrilling one I would have to say the Sungei Rejang Flume Ride. Not only thrilling but you get wet. Very scary...especially when it reach the top then stop and slide you down. Very steep..*phew* Felt like my heart was flying out...geezzz..no more second time too...




I also tried others like Spinner, Cyclone, Rolling Thunder Mine Train, Antique car, Dinosaurland, Euro express, rio float, bumper car..hmmm i think that's all.

I also lost RM10 on the jackpot machine that i didn't understand. Different from those I played in Macau..So complicated...5 boxes with lines???

Wednesday, October 05, 2005

Respect her

Check out the Stars paper today regarding Chung. A very beautiful and sexy girl.



This is another example that I wish people could understand. She didn't do anything wrong, all she did was doing what she really want in her life. But of coz, I do not agree on people who change sex just to earn a living as a sex worker.

So in the case of Chung, respect her for what she is.
You can read more here
http://www.thestar.com.my/news/story.asp?file=/2005/10/5/nation/12229711&sec=nation

Monday, October 03, 2005

Prostitution..should it be legalized?

By writing this entry..does not mean that I support prostitution in any way. It's just my random thoughts and 2 cents opinion regarding the issue. And it got nothing to do with anybody out there. If you find it disrespectful, pls don't bother reading it any future.

So why should we legalize it? Simple…to respect the party who is working in the industry. It's just another job like the others. We have no right to condemn any prostitute out there if it is done willingly. Everyone has their own rights to their bodies, just like tattooing or piercing his/her body. So how someone uses his/her body is none of our business as long as done willingly. *However, I totally condemn the act of salving a child into prostitution by pimp. This is very WRONG*

If you looked it from another point of view, prostitution is just like a business transaction. If you can accept that a patient feels better after visiting his/her therapist why can't you accept a client who wants to satisfy his/her sexual needs by visiting a prostitute. At the end of the service, the transaction ends and everyone feels better. Maybe with this, the case of rapes will decrease. Since this people can walked in to get these services when it is legalized and is not something bad or illegal. Think about it!

With legalization, prostitutes can go thru medical check up to make sure they do not have any STD or AIDS. This again might solve those problems. And with that they will be more educated on the diseases and will use condom for precaution.

With a proper way of this trade, we won't see pimp treating these prostitutes badly anymore. They can work for themselves. And also the country can profit from the taxes. Without legalization, underground prostitution still happens. So why not profit from it?

Of coz I am not denying the problem that will arise from legalizing it such as foreigners coming to the country to work as prostitutes, health screening problem with them and etc. Here I am not trying to agree with legalizing it but rather giving my thoughts regarding legalizing it. I am not promoting my bf/husband and the rest of the people to visit one. If that happen don't come shouting at me. Rather figure out what's the problem in your relationship. :D

Again, I would like to stress..I do not agree on prostitution personally but if someone who wants or willingly happily doing it. Then, I think they deserve to be respected in the society. I strongly believed that, no one out there would like to choose this as a profession. Most of them are being forced to this industry either by 3rd party or because of poverty.

All I wanna say here is that if you have already advice someone that this is bad, but that person still choose to be that way, there's nothing you can do but to respect his/her choice. It's their FREEDOM to take that path. I sincerely believed that with strong morality in the society and education, no one will be blindly doing something they don't want. Everyone out there is different they have their own limits of what is acceptable and what is not. So learn to respect them.

Sudoku Obsession

Sudoku is the craze right now. Young kids..teenager, housewife, old folks, everyone...is crazy bout with it.

Do you know what is it?

Well..it's a numerical puzzle to be solved.

The rules of Sudoku are simple. Enter digits from 1 to 9 into the blank spaces. Every row must contain one of each digit. So must every column, as must every 3x3 square.

Solving these puzzles definately a lot of patience. This little puzzle came from Japan during the 80s. Now it's a craze everywhere.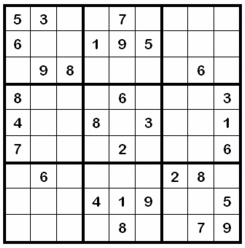 Sudoku Puzzle



You should really try. I should try too without writting a program solving it of coz. But who knows I probably get frus and just write a program and
solve the puzzle. Save me tons of time. But the puzzle is more than that..each Sudoku has a unique solution that can be reached logically without guessing.

The game will keep you alert and it is a form of mental exercise.

Kids should stop playing unhealthy video games. They should start playing Sudoku. No violent, porn, etc elements. This message specially dedicated to my youngest brother who is back to Penang for his semester break. I just saw him playing shooting games. *Wasting time* Go play Sudoku with your friends. Good for everyone.

Just a great brain teaser.

My last words.. keep your mind active with Sudoku.

The solution to the previous puzzle. This puzzle was graded EASY!


5 3 4 6 7 8 9 1 2
6 7 2 1 9 5 3 4 8
1 9 8 3 4 2 5 6 7
-------+-------+------
8 5 9 7 6 1 4 2 3
4 2 6 8 5 3 7 9 1
7 1 3 9 2 4 8 5 6
-------+-------+------
9 6 1 5 3 7 2 8 4
2 8 7 4 1 9 6 3 5
3 4 5 2 8 6 1 7 9

Various websites where you can play the Sudoku puzzle:

http://www.puzzlechoice.com/pc/Sudoku_Puzzlex.html

http://www.vnunet.com/spotlight/sudukoindex

http://www.goobix.com/games/sudoku/

Tips and forums go here http://www.sudoku.com/

Sunday, October 02, 2005

Gorilla Leah and Efi

Evolution? I remembered during my school days in my History class, we learned about the prehistoric people, like the Neolitic people, how they used stone or tree branches to catch their preys or for daily use.

Here recently, the finding of two female gorillas Leah an Efi prove using stick to check on the water depth and to use the stick to poke the ground. How cute? What does that prove are they evolving to become like us. One day, they might be our neighbour. They are getting smarter and smarter.

"The first instance was observed last October when a female gorilla (nicknamed Leah by scientists) attempted to wade through a pool of water created by elephants, but found herself waist deep after only a few steps. Climbing out of the pool, she retrieved a branch from a dead tree and used the stick to test the depth of the water.
In November, a second female gorilla (named Efi) used a detached tree trunk to support herself with one hand while digging for herbs with the other hand. She also used the tree trunk as a bridge to cross a muddy patch of ground." -CNN-




Reading this piece of news, bring me back a lot about my Biology lesson about Evolution..Darwin Theory and all. Haha. Now I am just a computer geek! :P

Did you notice both the gorillas are FEMALE? Smart female gorrilas..Evolution? female to overtake male? Haha!

Yippie got ice-cream to eat tonite :D!!! waiting for ice-cream boy..

Bali blast again..

Sigh..*sb sob* When will this end?

"A string of blasts on the Indonesian resort island of Bali on Saturday killed at least 24 people and wounded about 95 others, hospital officials said" -CNN-

It's a dangerous world out there.

Good nite.

Saturday, October 01, 2005

Don't Cha Lyric - Pussycat Dolls

Cool song by Pussycat Dolls...enjoy

Baby
Ladies
Fellas
Are you ready?
Lets dance
Baby (ooooh)
I know you like me (I know you like me)
I know you do (I know you do)
Thats why whenever I come around
Shes all over you (shes all over you)
I know you want it (I know you want it)
Its easy to see (it's easy to see)
And in the back of your mind
I know you should be fucking me (babe)

chorus:
Don't cha wish your girlfriend was hot like me?
Don't cha wish your girlfriend was a freak like me?
Don't cha
Don't cha
Don't cha wish your girlfriend was raw like me?
Don't cha wish your girlfriend was fun like me?
Don't cha
Don't cha

Fight the feeling (fight the feeling)
Leave it alone (leave it alone)
Cause if it aint love
It just aint enough to leave my happy home (my happy home)
Lets keep it friendly (let's keep it friendly)
You have to play fair (you have to play fair)
See I dont care
But I know She aint gonna wanna share

chorus

I know I'm on your mind
I know wed have a good time
I'm your friend
I'm fun
And I'm fine
I aint lying
Look at me shine
You aint blind (you aint blind)
I know I'm on your mind
I know wed have a good time
I'm your friend
I'm fun
And I'm fine
I aint lying
Look at me shine
You aint blind
I know she loves you (I know she loves you)
So I understand (I understand)
I probably be just as crazy about you
If you where my own man
Maybe next lifetime (maybe next lifetime)
Possibly (possibly)
Until then no friend possibly
Is a drag for me

chorus

Beach wedding

My friend's sister is having her beach wedding at Pulau Gemia, Kuala Terengganu. How romantic? I have just checked out the web about that place. Really nice!!! I mean really really really NICE! All water villas! The corals over there must be really beautiful. Just like those I've seen in Pulau Redang.

Here is some info about it..

"An island known only to a few, Gemia Island covers about 9 acres and its closest neighbour is Pulau Kapas. The island is a 15-minute boat ride away from the Marang. Gemia Island retains its peaceful, mysterious and quiet atmosphere and is the nest site for sea eagles, reef herons and many other birds. In an effort to save wildlife one of the beaches on the island is used as a turtle hatchery. Gemia Island is the few places where turtles ( including the giant Leatherback) come ashore to lay their eggs. On the island the green turtle is the most common. But the Hawksbill and Olive Ridley turtle are regular visitors. The rugged rock face of Gemia Island invites exploration and provides an ideal spot for bird watching and has an abundance of fascinating marine life. Gemia is the tiny island surrounded by coral garden that abundance with marine life" -www.gemia.com.my-






I must go there one day.

Biotechnology

The country is moving forward to biotech. I even read an article...forgotten where..saying that in 2020 this field can bring millions or billions of profit to our county. *I can't find that article anymore*

And in the Budget 2006 yesterday...it's clear that Biotech is the next thing in Malaysia.

"The Government launched the National Biotechnology Policy in April 2005 to outline strategies and initiatives to develop biotechnology in Malaysia. The areas of biotechnology that have been selected as strategic fields include agricultural biotechnology, health biotechnology and industrial biotechnology. To encourage the participation of the private sector, various fiscal incentives will be provided. " -Budget 2006-

Few weeks back, I got an email about doing your PHD in UK in this field sponsored by the Health Ministry if I am not wrong. Must be an intresting field and people who are into it should do something about it. We are still new here...but I forsee a huge growth in it in the next few years to come.

Malaysia Boleh.
Su Ling Boleh. (Betul tak?) :P

My tanned look.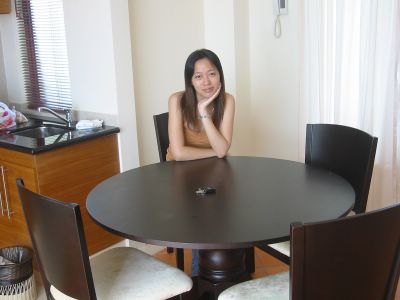 I m running out of things to blog. Hehe!
Teacuppa.com - Gourmet Teas for all!
{loves}
cheesecakes
strawberries
ice-cream
satay
chee cheong fun
curry laksa
penang laksa
ba kut teh
popiah
nasi lemak
crabs
peking duck
watching TVB drama
travelling
talking to stranger
walking alone in an empty street
{hates}
pretentious people
waking up early
naughty Frosty
{recently}
{movie watched}
{archives}
September 2004
October 2004
November 2004
December 2004
January 2005
February 2005
March 2005
April 2005
May 2005
June 2005
July 2005
August 2005
September 2005
October 2005
November 2005
December 2005
January 2006
February 2006
March 2006
April 2006
June 2006
July 2006
August 2006
April 2007
May 2007
June 2007
July 2007
August 2007
September 2007

{credits}