{about me}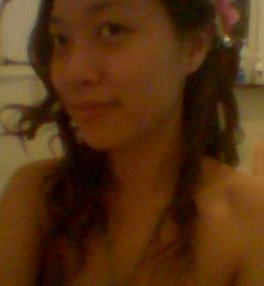 Name: Su Ling
Location: Georgetown, Penang, Malaysia

Simple things make me happy!

See my complete profile
{disclaimer}
This blog is solely MINE It contains MY photos, thoughts, hopes, dreams, secrets, and fears. I write because I want to, and you read because you want to. If you don't want to read, then don't. It's that simple.
Friday, September 30, 2005

Photography tips

Well the difference between these 2 pictures is one taken with a digital camera and another one with a normal camera or non-digital camera.

Not sure if you can see it clearly, but my picture taken with a digital camera is not that colorful as my bro's. The color in my bro's picture is very bold and strong. Very sharp too.



My convocation


Bro's convocation



So, did I put on weight ah??? Many ppl said I did.

Next, my friend taught me how to take picture with a blurred background.
He told me to set my camera apperture to lower value (which means the apaerture opening become bigger).

So, either manual or AV mode, just make sure your setting set to lowest number possible for aperture. F3.5, F4.0 or watever. Just don't go beyond F8.0 or so, the effect will not be obvious.

In Canon camera it is called "AV mode"

So apperture is one major factor. The other thing to enhance that is to make possible longest zoom you have. The effect will be even enhanced.

And of coz, you have to focus on the object to make the background blur.

*Smartie friend* He even told me this is very basic knowledge. *Pai seh la* But I bet he don't know bout my baking tips posted previously la. Eh.. It's also basic knowledge la. Haha!

Feeling sleepy..feel like taking a nap first before continuing with my mid-term report.

Old friend

Joyce Ho - my old friend. She just added me last nite in my IM. It has been like 6 years, I last spoke to her. Time flies. She came online just now and we were chatting all night. Of coz I was working on my Mid-Term Report too la.. Multithreading ma...I don't work in Intel last time and don't pick up that skill, rite? Haha! Opps I crap too a lot..maybe is becoz I work too much tonite or I am simply too happy to keep in touch with her again.

She is currently in Frankurf doing her Degree in Music. She is a pianist. In her house she has a grand piano. *Envy* How did I met her? Well..this sweet and pretty girl was sitting beside me when I was doing my SAM in Taylors college. It's has been ages...Glad to hear from her again...
She will be coming back next year, I can't wait to see her again! She reminds me a lot of the good old days! :D

On another note, Joyce is having a little problem with one of her eyes. I hope she will be alright.
I will pray for u.

I managed to finish a lot of my report too tonite. *Happy* But I have more summarization, training, coding, testing, writting, writting and writting to do. Mid-term report and papers....

*Shrugz* But kinda fun doing research, where can you find people to read your crappie research stuff rite? Haha...poor my supervisors, examinars have to read them. You don't have that privillage at work, rite? Do you think your boss will entertain you and read it?

It's 6.41 AM now, I wanna go take shower, I feel like going to the market and eat Fried kuey teow with my Mummy. Hmm....

Goodnite all, oopps or should I say good morning...?

Thursday, September 29, 2005

Baking tips

Ok some baking tips for everyone. Last time when I baked my chocolate cake it used to rise up to a very high level. So fine, I changed from an 8 inches to 9 inches baking tray. No more this problem. But then I realized another problem which is the cake top will crack to like half after baking.

What's wrong with it? Ok, it's actually your temperature setting too high try from 180 degree Celcius to 170 degree Celcius. If still cannot reduce more. This is because your oven is too hot. But no worries it's only a sign of a good oven you have. ;)

So here's some baking tips. I be baking the cotton cheesecake soon. It's a Japanese cheesecake. Let's hope it turns out to be good.

To the ppl who are in US reading my blog ...go visit the Cheesecake factory there.
http://www.thecheesecakefactory.com/


Food poisoning

Feeling very dizzy. I spent my whole day sleeping. And now having bad headache. I wonder is it the sambal prawn I had yesterday. I wanna blog more, but I think I need to go and rest.



Love me tender



Love me tender, love me sweet
Never let me go
You have made my life complete
And I love you so

Love me tender, love me true
All my dreams fulfill
For, my darling I love you
And I always will.

Love me tender, love me dear
Tell me you are mine
I'll be yours through all the years
'Till the end of time

Love me tender, love me true
All my dreams fulfill
For, my darling I love you
And I always will

Love me tender, love me true
All my dreams fulfill
For, my darling I love you
And I always will
Always will

Wednesday, September 28, 2005

Dreams

I read this in my friend's blog recently. I just have some comment here. My comments are not meant to harm anyone. It's just my thoughts..and is not directed to anyone in my life. *phew* better say it out LOUD incase i hurt some ppl with my ramblings.

"I believe everyone has a dream; to make it big someday, to open your own cafe, to marry your dream guy, to be the next Malaysian Idol maybe?! Maybe some of us has got more dreams than others. It's easy to dream and we all know that it's not easy to materialize all our dreams. It takes a lot of hard work, a lot of sacrifice in terms of time, fun, sweat and blood to finally get there. Most are not ready to do what it takes to reach the ultimate goal. It's too difficult. I'm not talented enough. I've got no time. It's easier to come up with 101 excuses NOT to do what we're supposed to do, right? Right"

I agreed totally with it to certain extend. Some dreams may go to far in life. And is bad..or rather the ppl might not want to face the reality. I believe strongly that there should be a period of time to try out something in life but not to the extend of blindly doing it or rather not change to the environment when time comes.

Everyone out there wanna be millionaires, or some would say.. today, being a millionaire is not good ENOUGH! Ok fine. Being super RICH i supposed. I agree. WHo want to be poor in this world? The answer is NOBODY. Why do you work so hard? The answer is becoz of MONEY. I admit, me too..wanna be rich one day (*find a rich man to marry* :P), wanna go shopping everyday, wanna buy this and that, wanna go spa, wanna go to fancy restaurants. But in reality, a lot ppl are really lost with thier own lives. Everything they want. Greedy ppl! and it can be scary if you just go do it without any planning and finally fail.

I like ppl who are ambitious, just like me. I know I am very ambitious. But all I wanna say it takes some time. But some ppl might thinking "How much time do i have, i am so old already" Well it's all just excuses. everyone should not give up easily and should work all the way to achieve it unless the thing is proven to be a failure. Then nothing much can be said.

Just like today, a friend of mine behaving really weird. I can sense that he is very unhappy about his job and life. Same age with me maybe elder few months. I am a December girl. (*December is coming, better save $$$ for my pressie yah!) Haha!Back to the story..he was comparing himself with me that I have a one year working experience already. And he is just new (not really new, probably 6 months working). he started worrying bout not having enough money in the future. This guy is really different from the other guys that I have met. He seems so worry bout his future. Others that i know off, probably just hanging around having fun with thiers credit cards. I think he worry too much, he should spend more time having some fun and learning new skills. But he did enlighten me with his thoughts. I hope he feels much better now.

Life gets better everyday. Jia You.

Cheerz!

Cotton cheesecake

Wow I read this in The Stars paper today. I wanna try to bake this weekend. It has more steps than the ussual one I bake.

Ingredients
(A)
70g UHT milk
185g cream cheese
35g butter

(B)
5 egg yolks
1 tbsp lemon juice

(C)
35g superfine flour
35g corn flour
5 egg whites
115g castor sugar
1/4 tsp salt

Method
Grease well a 24cm spring-form cake pan. Beat butter and cream cheese with an electric blender until well combined. Drip in milk gradually and beat until mixture is smooth. Leave aside.

Add in egg yolk and lemon juice, and beat until light and fluffy. Fold in sifted flour and corn flour to mix until evenly blended.

In a clean bowl, whisk egg whites with salt and sugar until thick. Gradually fold into the cream cheese mixture. Pour mixture into the prepared pan and bake in preheated oven at 160°C for 1–1 ¼ hours or until slightly golden.

Switch off the oven and leave cake inside the oven for 12–15 minutes with oven door ajar.

Remove cake and invert the cake for 5–6 minutes before turning it out onto a wire rack to cool completely.

Tuesday, September 27, 2005

Tiring day

I slept around 5 AM yesterday and woke up around 9 AM. Then left to USM to meet with my supervisor. When I reached there, there were guards blocking the road. *Gggrr* I gotta take the shuttle. I hate to take shuttle. Super a lot of people and I gotta wait for it. But luckily today wasn't that bad I didnt have to wait long and from the carpark to my school is pretty near. *luckily* Else i will be cursing here in my blog.

After coming back from uni, I wanted to go do facial but then was too lazy to go. Maybe I will go later today. So I headed home and wanted to study a bit. But end up my brain was dead and I started re-design my blog. I have changed many design from bikini orangie girl to the reddish/pinkish travel girl. Now I have an earthy and sultry color blog with ppl partying and gossiping in the picture on top. But my blog tittle remain the same which is Last thing on my mind...Guess what is the last thing on my mind everyday? No pressie for the correct answer. :D But of coz is about my dreams. *i blog bout that later* I have something intresting to talk about that.

I just finished debugging Yummy Yummy code. More enhancements to be done later. While I was working I was talking to a friend and she told me something that is weird to me. Well I decided not to blog about it. So no updates on that.

*crap* I am feeling tired already. I actually wanna do some work for my Masters as I am having another meeting in 2 weeks time. I wanna try to get it done by end of this week. I am feeling hungry. I think i wanna go shower and later find some food to eat.

I continue to blog later about the dreams.

My new blog design

Welcome to my new blog design. Somehow, I still prefer my old one. Don't know why. I got a new taggie too. :D This one is cuter but it has some ad in it. But I am too lazy to change again. Maybe I will change the design again. Maybe i will just stay with it. Haven't come across of any other designs yet.

Family picture

Here is my family picture taken about a month ago in Skudai, JB during my brother's convocation.

Monday, September 26, 2005

Romantic Places

Romantic places to visit

Here are some list of places that I think is romantic to go..(not in order)

1.

Bali, Indonesia

for a beach gateaway. They have very good and cheap spa too. Quiet and suitable for honeymoon. Relaxation. Phuket is great to but is more of a place to party.

2.

Venice, Italy

Make sure you get to there before the city goes under water. There is a reason the city has served as the backdrop to numerous romantic operas. Enjoy the scenery while on the boat.

3. Paris, France The famous romantic city as everyone claim. The Eiffel Tower and Louvre are a must.

4.

Disneyland

Any Disneyland will do. A cute romantic gateaway.

5. Hawaii, US I find it romantic to go here. But not sure bout others, maybe your gf will not agree. Hehe.

6.Spain Always wanted to go here.

7.

Salzburg, Austria

Salzburg is the place to go in July, when the Mozart Festival is taking place and the flowers are blooming in nearly every corner of the city!

8.

Bruges, Belgium

Go for the chocolates. Yum! Yum!

9. Prague, Czech Republic Beautiful! Beautiful!

10. New York City?

My study lamp

Sob Sob...my study lamp broke down! No idea why..I just bought it 2 months ago at RM80. Noone know how to check what is spoilt. Bad Bad. So lousy!

Hate it. Now I don't have a study lamp.

Smartie asked me..."press until button spoil", "fuse spoil", "bulk spoil", "cannot switch on." aiyo...how am i suppose to know. You think i am a pro in repairing stuff?!! *Frus* All I know is i press the switch on button no light la... *Grrr*

Nvm let's talk bout some nice stuff. I have just eaten some mango bought from Kelantan. Yum Yum! Very juicy and sweet. Love mango.

There also my dad's friend offer me to eat maize. My first time experience eating it raw. Delicious! Juicy and sweet! Just like eating an apple. That jagung can only be found in Cameron Highland. One day i must go there to eat jagung!


Saturday, September 24, 2005

Adsense

I have heard so much bout ppl earning tonnes of money from google adsense. I wonder how they make it. I only make few cents only. Pls everyone who read my blog pls click the ads in my page pls. You know i am umemployed now. Poor me :P

I found this site, actually there are plenty out there but here is one that claimed to earn so much money from adsense. I wonder it is true. The adsense ebook is selling for $49.95.

check it out here.
Google profits

Testimonial from his customer, taken from the owner site. I find it so hard to believe.

Wade,

Superb product!!! Finally an online profit making guide that really works. I can't believe how easy it is to make money on the Internet! The information and easy to follow steps still amaze me. Thanks!

-Denise Blankenship-

This is what he claimed for his adwords tools.
"Make $1000's per month. No website needed.
No product needed. Profit within hours"

anyone out there know how to earn a lot. do drop me a line ya.

Monday, September 19, 2005

Vacation

Yippie I am going for vacation tomorrow. No time to blog, I need to attend to something first.

Btw, a sad news about this accident at Jelutong Highway. Sob Sob...there's 2 kids in the newspaper that lost their father in the accident..check it out at

http://www.thestar.com.my/news/story.asp?file=/2005/9/19/nation/12082609&sec=nation


Tata

Friday, September 16, 2005

Mooncakes madness

My house has another box of mooncake today. Came with a very nice wooden box and really nice paper bag. People are gettting really creative nowadays to market these mooncakes.

I don't really fancy mooncakes nowadays. Maybe I have eaten too much in my younger days. Hehe!

This Sunday is the MidAutumn Festival. Hope everyone get to eat mooncakes with their loves one under the bright moon light. Sob sob unlike me...!!

A little history of Mid-Autumn Festival: According to the legend, Hou Yi won the elixir of immortality by shooting 9 suns out of the sky with his bow from the Jade Palace Emperor. But his wife Chang-O out of curiosity, took the pill. The pill made her lighter, and she floated up into the moon and lived there forever. People believes that on the 15th night of the eighth lunar month, Chang-O is at her most beautiful. The bright and shining moon represents her beauty on that night.

I am also travelling north next week. To a place that I have never been in like perhaps 20 years. Let's go back to yesteryears...

Friday, September 09, 2005

Weekend...

I think tomorrow I wanna go out and have my fried popiah. How I wish there's fried popiah at nite...I am going out for supper soon...I wish I have some popiah..but I don't think there's any. I should ask See Mun in IM now. Maybe I want Ramlee Burger too..the one near USM...i heard is one of the best..I have never tried it before.

Hmmm....But I think See Mun wanna go to this place for drink...she told me there's some snack there. I wonder if they have fried stuffs...hmmm...else most probably we will go to Kayu again. Maybe we should go Subaidah and have roti kaya...hmmm hmm...I am getting hungry...

Piggy-Su. My plan to diet is getting delay. Bad Bad...

Saturday, September 03, 2005

Boring day!

What a boring day! Why are people so inefficient sometimes ..
I think I am an efficient gal from my past experience. Some ppl really have no planning. Like going to A on Monday, then go back to A on Wenesday, then again on Thursday. Bad bad! Like chicken running all over the places. When you can manage your time and life efficiently, I think you will really fail in no matter what you do.

Just some of my random thoughts....really just random...

Efficient-Su. (Even some might not think I am one, but this is at least what I am looking forward to be)

Thursday, September 01, 2005

Late!

Hate being late for lunch or dinner! Hungry!
Teacuppa.com - Gourmet Teas for all!
{loves}
cheesecakes
strawberries
ice-cream
satay
chee cheong fun
curry laksa
penang laksa
ba kut teh
popiah
nasi lemak
crabs
peking duck
watching TVB drama
travelling
talking to stranger
walking alone in an empty street
{hates}
pretentious people
waking up early
naughty Frosty
{recently}
{movie watched}
{archives}
September 2004
October 2004
November 2004
December 2004
January 2005
February 2005
March 2005
April 2005
May 2005
June 2005
July 2005
August 2005
September 2005
October 2005
November 2005
December 2005
January 2006
February 2006
March 2006
April 2006
June 2006
July 2006
August 2006
April 2007
May 2007
June 2007
July 2007
August 2007
September 2007

{credits}