{about me}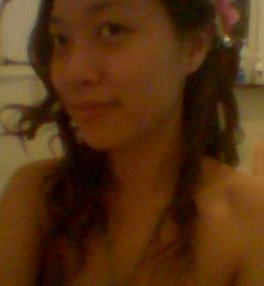 Name: Su Ling
Location: Georgetown, Penang, Malaysia

Simple things make me happy!

See my complete profile
{disclaimer}
This blog is solely MINE It contains MY photos, thoughts, hopes, dreams, secrets, and fears. I write because I want to, and you read because you want to. If you don't want to read, then don't. It's that simple.
Saturday, August 27, 2005

Malacca

Reached Malacca. Feeling hungry...wanted to eat Satay Celup but end up another aunty cooked dinner for us. Sigh!!! Better not eat so much wanna eat fried osyter later tonite! Next time must tell them! Only want to go out and eat! No home cooked food please!

Leaving to JB tomorrow. Yippie!

Alrite, wanna go for dinner soon!

Piggy-Su!

Heart wants what it wants

I think if I ever have to make another decision in the future, it will be according to my brain and not heart anymore. Just becoz you want it and you do it is a very irresponsible thing to do. Not thinking how it will hurt you and even the people around you is really bad. Loving someone you have to think about the pain that one day you might bring to that person when you walk off. The impact is huge to everyone around you..think about it!


Broken-Su!

Friday, August 26, 2005

Good news!

Yiipie..at last after waiting for 8 months I received the letter I have been waiting for so long. The letter was to inform me that I don't have to repay my PTPTN loan! Yay!Yay! But new students will never get to convert their loan anymore in the future starting this year. Poor them. Lucky me! Haha!

On other happy notes, here is a nice chocolate cake! Yummy! Imagine it is served chilled. Yum Yum!




Below are my crystal mooncakes. *Colorful* and *Cute*



My favourites...strawbery and Pokemon! :D Yum Yum! Don't feel like eating them.




I am leaving for Malacca tomorrow! Haven't start to pack yet!!! Need to pack *Messy-Su*, and then settle some work and send an email after that! *Phew* I wanna start packing now..So a lot to pack!..but I'm feeling a bit dizzy and sleepy. Maybe I should take a nap first....

More things to come in the future yah!! I hope I get to see Leo Ku! YAY! Jia-You!

Sunday, August 21, 2005

Piercing

Chats between 2 cousins in IM.

Cousin 1: Wanna see something?
Cousin 2: [Looking at the web cam] Wow, you PIERCED your tongue!
Cousin 1: Ya! don't tell my parents. They thought the hole is closed already.
My dad's eyes are more sharp. But my mom is blur blur one :D
Cousin 2: Wow. Not pain?
COusin 1: Nope. The pain is bareable.
Cousin 2: You sure?
Cousin 1: Yup. Sure u can take it one.
Cousin 2: No way! I rather pierce my nipple.
COusin 1: Ya rite! Go do it! Your whole breast gone then u know.
COusin 2: err, err, damn! I dont think i will ever have other parts being pierced
except for my ears.

More interesting..
COusin 1: Very easy only, i did it with tumbtack. Just tumbtack it.
COusin 2: HUH? you did yourself? not shop..
cousin 1: ya...shop expensive so i did it myself.
Cousin 2: ????
cousin 1: The process of piercing is not so pain but after that is pain for few
days...cant eat....took almost a month to be alrite again.
COusin 2: you are CRAZY! few days dont have to eat?
COusin 1; good also can diet. swollen after that!
Cousin 2: I respect your courage girl! I think i will have a tattoo. But then i am
afraid of scaring too...i have senstive skin..what if got infected..sigh..
COusin 1: I am thinking also...end of the year maybe get a tattoo. :D where you want to tattoo?

.....

The rest of the conversation is confidential now~

I have to find a hobby and some stuffs to do nowadays. I have to change to be myself again. scary. I have to learn to trust my love ones more in future.

Jia You!!!

Saturday, August 20, 2005

Dream

It's the 7th Month! Creepy...Do you believe in ghost? My mom used to tell me a lot about it. And tell me to believe it..

Last night, I had a Dream, it was trying to tell me something. I din't have any dream in recent years. Not one that I could recall. The dream was very disturbing.
I no longer able to do my own judgements anymore nowadays. And people who is smart enough to realize it is making use of it againsts me, to manipulate my mind.

What a dream? Maybe I m not what I think I am...

Friday, August 19, 2005

Me

Things That Scare Me
~Losing my loved ones
~Missing Frosty
~Car accident
~Snakes
~Getting lost

Things I Like The Most
~Kisses
~Hugs
~Travelling
~Sleeping
~Eating(ice-cream,cheesecake)

Going down South soon!

Things to eat
=============
1. Durian cendol
2. Fried oyster
3. Chicken rice ball

Yummy!

Tuesday, August 16, 2005

Sleep

I sleep a lot nowadays. Yesterday I had 10 hours sleep. Still I feel sleepy, I wonder why? Gonna have sandwishes for lunch. No story to tell. Everyday is the same, wake up, eat, study, nap, some tv, study, sleep. Hmmm Hmmm...i better start my reading.

Sleepy-Su!

Sunday, August 14, 2005

Hazy Penang

:( No outdoor activities! Stuck at home!

I am hungry. Wanna go for lunch! What shall I eat?

Bye Bye.

Su-Su!

Wednesday, August 10, 2005

Food food food and bomb threat in Komtar

Ate a lot last weekend. All my food list in the previous blog was checked except for nasi lemak. Well addition to that, I had Creamy Butter Crab. Wow! It was really delicious. My fav crab dish use to be sweet and sour with peanut. But now is Creamy Butter! I also had Ah Wah hokkien me, but it was so-so only. I have eaten better Hokkien mee.

I ate so much till i m sick on Sunday. Only feeling much better yesterday.

Talking bout last nite, i was out to Prangin mall to catch a movie. Bought the ticket and was walking around, but a lot of shops were closed, all the DVD shops were closed. And in a very blurry announcement I heard "Please leave the building now." I thought it was meant for someone else. But then it was repeating and repeating. Then I saw ppl running out of the building. Hmmm...i was walking around trying to figure out why they are running. Suddenly, an uncle came and told us, there is a bomb threat and asked us to evacuate the building now. So we gotta leave prangin mall.

How? I am supposed to watch my movie at 9.35. DAMN! Hang around the area till around 11 PM went back to the cineplex and they told us either u get a refund or watch the 12.10 AM movie..gave up and got the refund...come back home and ate jelly :D

ok gotta run, need to do some reading. :D

Jia-You!

Thursday, August 04, 2005

Food

Things to eat:

1. chee cheong fun
2. curry mee
3. nasi lemak
4. satay
5. ba kut teh (maybe)

I guess is enough, don't want to be piggy-Su!

Wednesday, August 03, 2005

He's Just Not That Into You

Funny book!

1. He doesn't want to be with you all the time.
2. He doesn't want to commit to marriage.
3. You are not priority #1.
4. He is just busy. (What busy? Busy can be anything.)
5. I love you but I'm not sure I'm in love with you. (= I don't love you)
6. He is not giving what you want.
7. Unsure. (= NO)


Tuesday, August 02, 2005

2nd day

It has been great! :D Yesterday was a good day. Woke up around 9.30 AM, then did some training with my system. Then had lunch and then took a nap for 2 hours. Woke up and trained my system again. Do some reading!

I also learned how to cook curry chicken. Yiipie!

Today woke up pretty late, will be going out a lot today. Unproductive day...

Hmmm..hmmm I wish sometimes people understand my intention, all I wanted is for good cause. Things should not be delayed. Should settle it for good. Else it will bring more pain and unhappiness only. Why can't people understand this simple theory? If what is true 7 months ago, it should be still true today. Unless it was a mistake!

8 months ago(the first time, the first moment, the first feeling) gone? perish?



Well, no time to bla bla bla about that...

more things to come....wanna be talented-Su...Jia you!
Teacuppa.com - Gourmet Teas for all!
{loves}
cheesecakes
strawberries
ice-cream
satay
chee cheong fun
curry laksa
penang laksa
ba kut teh
popiah
nasi lemak
crabs
peking duck
watching TVB drama
travelling
talking to stranger
walking alone in an empty street
{hates}
pretentious people
waking up early
naughty Frosty
{recently}
{movie watched}
{archives}
September 2004
October 2004
November 2004
December 2004
January 2005
February 2005
March 2005
April 2005
May 2005
June 2005
July 2005
August 2005
September 2005
October 2005
November 2005
December 2005
January 2006
February 2006
March 2006
April 2006
June 2006
July 2006
August 2006
April 2007
May 2007
June 2007
July 2007
August 2007
September 2007

{credits}